Nobody ever said that a long-distance relationship is going to be very easy- the extra distance makes many things unachievable, here flowers plays an important role to keep it healthy. Things could get complicated very quickly, and one might feel sad and lonely at times easily as well- but the extra mile doesn't seem to be the culprit every time. There are so many more things in a relationship that makes complicated. However, on the contrary, the extra distance also makes the simplest things the sweetest. Things like being able to hold each other's hands, having dinner together at the same table, talking to each other for hours in person, taking a walk together- these small wishes mean so much more when you are in a long-distance relationship. These relationships are robust, but they have their surprises too. Here are some useful tips mentioned below, which to my sensibility can help to keep your relationship healthy and alive-
MAKE TECHNOLOGY IS YOUR BEST FRIEND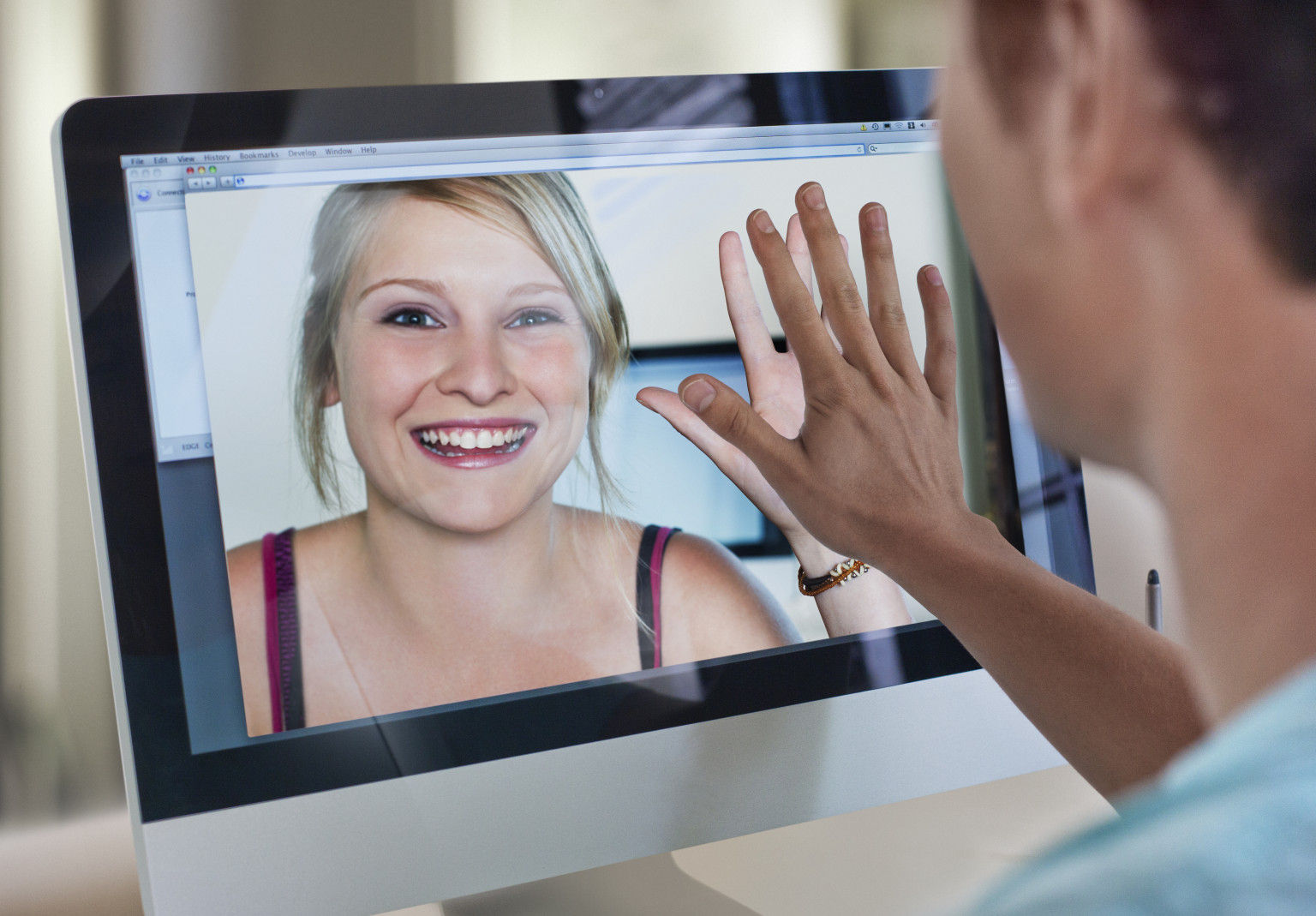 In today's time, when we can have the entire universe, just in the palm of our hands, no distance seems too long. Now there are almost a hundred ways to stay connected, and all thanks to the technology. In this high time, where technology advances to the highest extreme, there is only one thing you need to do to stay connected with your partner, is to choose the medium only. But the main bond of a relationship does not lie just in staying connected; the main beauty of it is in sharing the day-to-day minutia with the person you love. And with technology, one can share those in real-time, in the forms of text, images, and even video calls. Also, because couples in a long-distance relationship, rely mostly on technologies to stay connected. In some way, it allows them to communicate verbally even more than many couples, who see each other often but sits in the same room, not at all interacting with each other.
But, here again, the key is in sharing small to smaller details with each other instead of just generalization. Sharing each detail will make every day come alive for both of you even though both of you are not together at that time.
COMMITMENT AND TRUST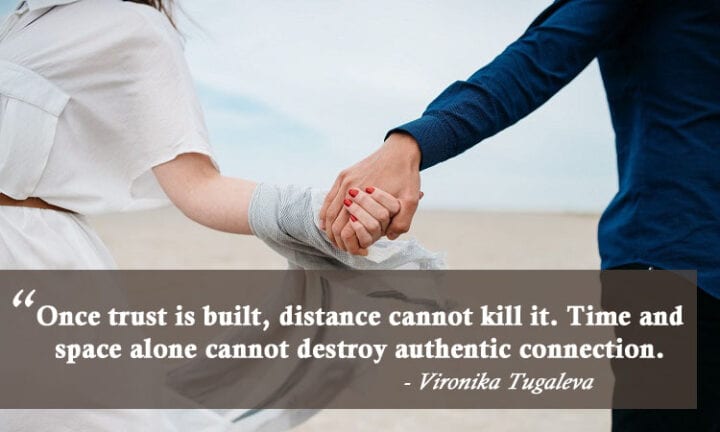 Though these two words are applied to each relationship, no matter long distance or not, it is practically more apt for people pursuing long-distance relationships. It is always better to know that both of you are genuinely committed to the relationship before taking it further. Be morally committed to each other, and it is also necessary to continue a relationship not because of any social pressure but only because of personal values. Creating trust in a relationship is also vital, regardless of distance. Try best to be faithful and try to avoid any kind of temptations that got into your way. It is usual for humans to make mistakes, but it is more important is, to be honest about it with your partner.
PLAN LITTLE SURPRISES, EVEN WHEN YOU ARE NOT TOGETHER
In long-distance relationships, it is often happening that one of the partners could not be present on the other ones, birthdays, Valentine's Day or any other special moments and in the case of married ones, also on their anniversary. But don't get demoralized by the extra distance you have between you too. There are always so many options that are present to give the other one a big surprise on their day. Visiting them without any prior notice is the biggest them all. But if this one is not possible, then there are always rooms for sending beautiful flower bouquet of their choice home delivered to them on their special day.
A bouquet of freshly picked flowers with a box full of their favorite chocolate will make them double happy. One can also send cakes online to their loved ones from literally any part of the world on their birthday, through any online flower and cake delivery in their city.
SET THE END DATE TOGETHER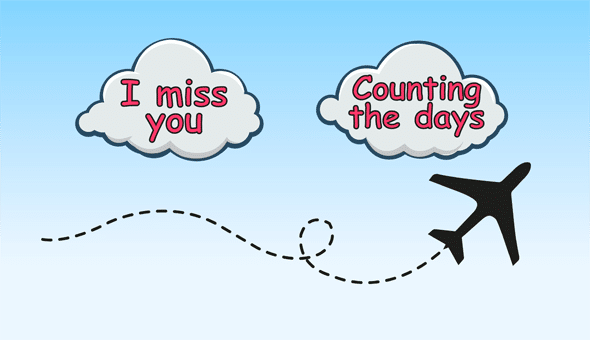 Though long-distance relationships can be an excellent thing for a finite time, it is eventually essential to be in the same place as your partner after some years. It helps both the partners to know each other way more than in staying apart. Staying together also helps both of the partners to grow into the relationship way more beautifully. Being alone is really hard, so it is always best to have the both of you equally committed to the relationship and be on the same page about how long this 'being apart' thing will last and about what will happen afterward.
DO THINGS TOGETHER, EVEN YOUR ARE APART

Just because two of you live in two different cities, or countries or even continents, it doesn't mean both of you can't make plans together. You can always plan a movie night for both of you together, where you two will watch the same movie at the same time, and that took over skype when both of you are in two different places. Classic romantic!! Isn't it? Other than this, with various online streaming services like Netflix, Amazon Prime, etc., it is also becoming very more comfortable for everybody to binge-watch their favorite show, even they are staying apart. Playing together online games as a team or taking part in different online couple exercises are also splendid activities to have fun together and spent some lovely time with each other, even you are apart.
MAKE FUN PLANS

This is always delight in figuring details about what you two are going to do when you meet with each other the next time. Make it a ritual, discussing all the fun things you are going to do together when you two will start living together. Make a list of places you two want to see together, make lists of restaurants where you two want to eat, plan different activities- in short, jotted down all the future goals. This exercise will create a space of positiveness to look forward too. But one thing always keeps in mind, don't do anything irrational or out of anger, if just for sometimes things do not work out according to plans. Always remember, there is still a tomorrow, and tomorrows will be nothing but better than today. And always try to plan often visits to each other. Vacations are the highlights in any long-distance relationship, and to those mundane days of living apart, vacation is like rainbows, like fireworks and glitter bombs.
Apart from all these tips and tricks, the main secret behind every successful relationship lies is the two individuals who are in it. Every relationship is different; they are dynamics different. Don't try to generalize it. Make your own rules together to make it work and keeps its uniqueness as the way it is. Until then, Long Live Love!
Latest posts by Argha Chatterjee
(see all)