The rose speaks of love silently, in a language known only to the soul -. Rose is the eternal symbol of love and has been adored by people since its origin. No other flowers or flower bouquets can accommodate up to its grace and sophistication. That is why roses create a Perfect gift to convey love, affection, respect, and other deep feelings, and they always cheer up the dreariest day.
But the harsh reality is no matter how beautiful fresh roses are, but they tend to wilt after a few days. And coping with dead roses is just perhaps not at all happy. And as we all know that flowers are the most important and heartfelt gift  for any special occasion.Flower can speaks many unspoken words without uttering a single word. But when it comes to special occasion like valentine's day or anniversary we can choose this special forever rose instead of any regular flower bouquets.
The forever roses are 100% organic and preserved roses, which will remain fresh for up to 2 years with very little if any maintenance. Below are a few of the magnificent shades of forever roses out there in various types of decorative boxes and glass domes.
Stands rose for enjoy, love, and passion. A timeless gift to say'I Love You' to your partner, making it a perfect gift for events like Valentine's Day and anniversaries. This charming eternally red rose comes in an acrylic box that you may gift to please your partner. It will get an eternal symbol of your love for the partner that he/she will hold on.
Hot Pink Forever Rose
The symbol of gratitude and admiration, dark pink roses are a more traditional way to express thanks. This pink forever rose at a glass dome is best to express thanks to even a beloved one, friend, or a partner for always standing by your side and never losing faith from you. The dark pink improved have an enduring impression on the recipient and will thoughtfully communicate your emotions.
Orange Flame Forever Rose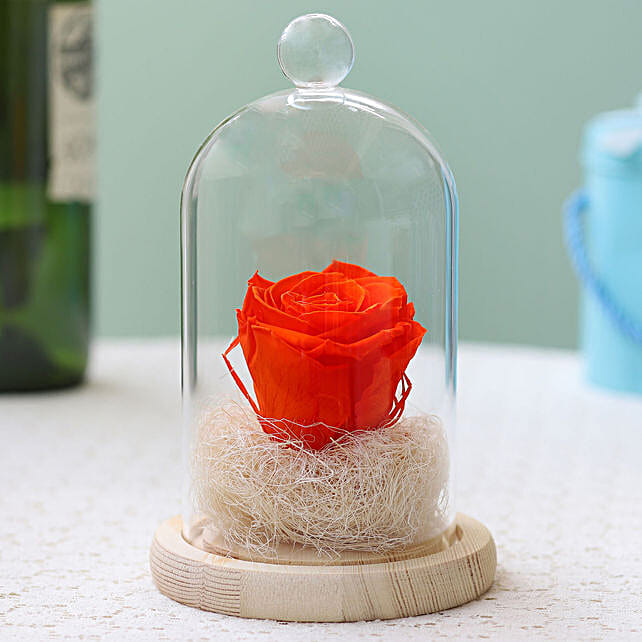 The fiery and bold orange rose represents desire, fascination, and enthusiasm. This flame rose in a glowing orange box will create an expression of your love for the partner. It can be gifted on Valentine's Day or occasions like an anniversary. With this stunning rose to fill them with electricity whenever he/she is feeling low, or you could surprise your beloved.
Sunny Yellow Forever Rose
Yellow roses reflect friendship, joy, and cheer due to their vibrant colour. This bright yellow forever rose in a velvet box is oozing warmth and affection. It's the ideal gift to say decent luck to a friend or to tell your beloved that you miss him/her. You might also gift it to your best friend on Friendship Day as an eternal sign of your camaraderie.
Olive Green Forever Rose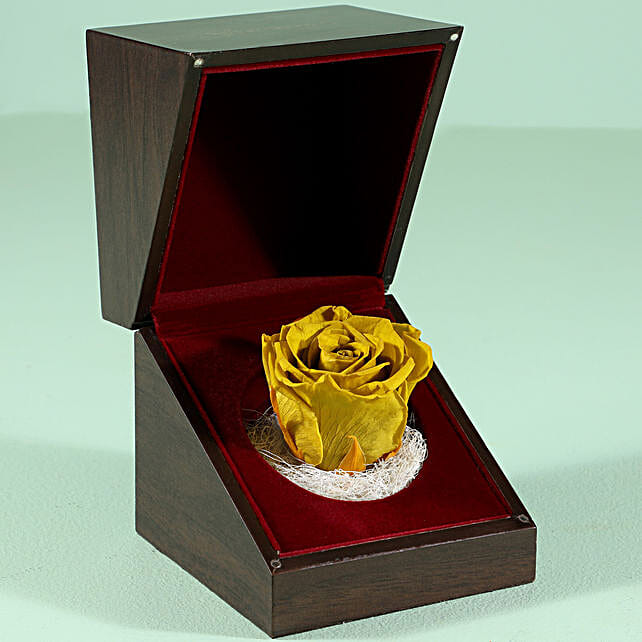 The colour symbolises the development of life and new starts. The green is a sign of prosperity, richness, fertility, and fertility. You can give them this green roses which comes in a designer box, if you would like to please someone or surprise them with good news. The stunning rose will leave them to brighten up their day.
Rainbow Forever Rose
With their vivid petals, a rainbow rose can put an instant smile on the face of anyone. A complete symbol  of joy and happiness, this rainbow rose comes in a stylish wooden box, and that enriches its appeal fantastically. It'll make a blossom to celebrate happy moments like anniversary, birthdays or Valentine's Day.
Lavender Blue Forever Rose 
Known for their uniqueness, lavender roses can make a significant statement. Being connected with wonder, enchantment, mystery, and love at first sight, this rose is perfect for sending to a crush who has stolen your heart. This lavender-blue forever rose comes in a pretty glass dome. It is possible to send to express your affection into an individual with whom you've fallen in love at first sight.
Latest posts by Argha Chatterjee
(see all)